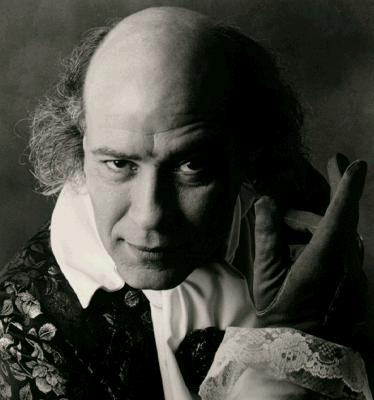 This website is being updated, so be on the lookout for news and information!
---
---
ROBERT HIRSCHBOECK is the cunning toymaker, Henry Stauf, in Trilobyte's award winning CD-ROM titles, the million-selling THE 7TH GUEST™ and it's stunning sequel, THE 11TH HOUR™ . Stauf is the presence that haunts the games' drafty, old mansion and devilishly possesses and torments the souls of all players that dare enter. The actor behind one of CD-ROMs most recognizable stars is Shakespearean actor, Robert Hirschboeck.

Mr. Hirschboeck was raised in Wisconsin and California and holds degrees from the University of California, Berkeley and Southern Oregon State College. Among his list of credits are seasons with the Oregon Shakespeare Festival, Berkeley Repertory Theater, the Colorado Shakespeare Festival, and the San Jose Repertory companies. Hirschboeck is also a founding partner and Artistic Director for the Stage Door Theatre in Boulder, Colorado and is married to costume designer Deb Dryden. They live with Sophie the dog in Ashland, Oregon. Their house is filled with much laughter, and only a few unsolvable puzzles.
---
WHO IS THE REAL
---
"A fine character actor." San Jose Mercury News
"Rob Hirschboeck is the Vincent Price of multimedia -- at once menacing and campy." PC Entertainment
---
© 2000 Big Love inc. All pages hold a specific copyright, and are not to be duplicated in any way, shape, or form without permission of the author.